Enter Engineering, founded in 2012, is a leader in industrial construction in Uzbekistan. In 2022 the company implemented a number of significant projects for the country and took part in complex developments of gas fields, including construction of power, infrastructure and civil facilities.
Achievements of the year
- In November 2022, the subsidiary company Enter Steel received international certification ISO 9001:2015 (Quality Management Systems), ISO 14001:2015 (Environmental Management), ISO 45001: 2018 (Occupational Safety and Health) from DQS Quality System, the official partner of the Italian certification authority in Uzbekistan ICIM S.p.A.
- In December 2022, Enter Steel also received certification from the American Society of Mechanical Engineers (ASME) for the successful implementation of a quality management system (QMS) and U, S and R stamps (U - pressure vessels, S - power generation boilers, R - repair vessels and modifications).
The most important projects of 2022
Samarkand Touristic Center (2019-2022)
The «Great Silk Road» Samarkand Touristic Center, which has become the largest in Central Asia, was commissioned in the fall of 2022. The center includes 8 world-class hotels, public areas, a park, a music fountain, conceptual restaurants, cafes and bars, as well as an international convention center and a historical and ethnographic park «Eternal City».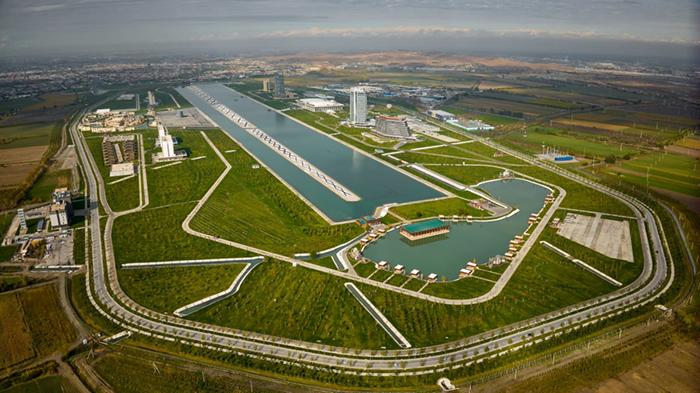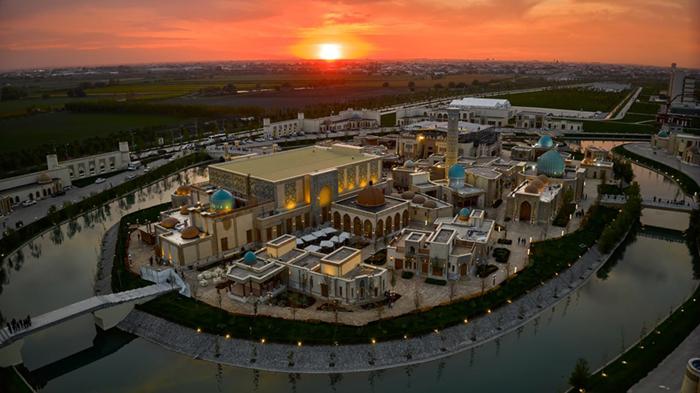 Samarkand International Airport Terminal (2020-2022)
The project was implemented on the basis of a public-private partnership agreement between «Air Marakanda» IE LLC and «Uzbekistan Airways» JSC and became the first of its kind for the aviation industry of Uzbekistan. Construction works were carried out by Enter Engineering, based on the architectural design and engineering solution of Kiklop (Turkey).
«Kashkadarya-Mubarek» Pipeline (2021-2022)
A new 33-kilometer pipeline connecting natural gas fields in Kashkadarya region was put into operation in April with the Mubarek gas processing plant. It results from a joint project carried out by Enter Engineering, Saneg and ERIELL Group. At the «Chuvama» and «Kyzylrabot» fields, work was carried out to equip wellheads, install and mount gas treatment units and a commercial gas metering unit. For the first time in Uzbekistan, the most advanced technological equipment for pre-treatment-produced gas was used.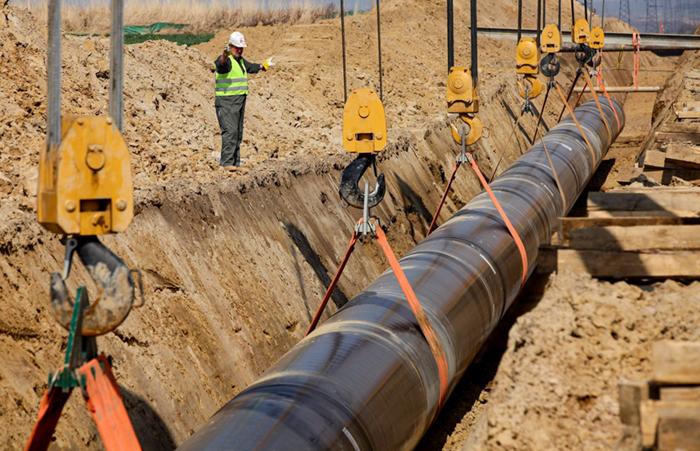 Stage 2 of the booster compressor station at «Dengizkul» (2021-2022)
The works under this project were fully completed in November 2022. It was executed under the contract of «Uzbekneftegaz» JSC at «Dengizkul» field. Implementation of the project will maximize the efficient development of residual natural gas reserves. The 16MW gas turbine unit manufactured by Baker Hughes will increase daily natural gas production by 6.5 million cubic meters.
Current projects
Baysun GPP (2018-present)
Construction of the Baisun gas processing plant (GPP) in Surkhandarya region is in the active phase. Enter Engineering performs a wide range of works, including design, equipment supplies and construction of the gas processing plant, infrastructure facilities, gas gathering, treatment and transportation systems on a «turnkey» basis within the framework of the production sharing agreement with regard to the investment block «Uzbekiston Mustakilligi».
At the moment the necessary logistic infrastructure is created, construction of objects and installation of equipment is carried out. The project provides for the construction of a gas processing plant with an annual volume of extraction, processing and transportation of 5 billion m3 of gas using licensed technologies of Shell Global Solutions International B.V. The project is expected to be completed in 2023.
Oil Terminal RC-2 in Tashkent (2021-present)
The construction of the RC-2 oil products storage and distribution terminal, on the site of the previously implemented RC-1 project is at the final stage. The project is expected to be completed in 2023.
Samarkand Airport Refueling Complex (2022-present)
The Samarkand airport's aircraft refueling complex will include fuel tanks with a total capacity of 4,000 cubic meters, an administrative building, an aviation kerosene filling station, a railway approach line, and a number of other facilities. The complex will ensure an uninterrupted supply of fuel for aircrafts of both the national air carrier and foreign airlines, including cargo flights.
Chemical complex for production of mineral fertilizers
Samarkand region (2020-present).
The project for the construction of an environmentally friendly complex for the production of mineral fertilizers in the Pastdargom district of Samarkand region is in the active phase. Upon completion of construction, the complex will produce 370 thousand tons per year of mono ammonium phosphate (MAP) and 540 thousand tons per year of nitrogen-phosphate-potassium fertilizers (NPK). The project is expected to be completed in 2023.

Phosphate rock quarry and phosphate ore processing plant in Navoi Region (2020 - present).

The purpose of the open pit mine and the beneficiation plant for processing phosphate rock «NEOFOS» IE in Navoi region - extraction, processing of phosphate rock and production of washed dried phosphate concentrate, which will be supplied to the chemical complex JSC «Samarqandkimyo» for the production of fertilizers. The project is expected to be completed in 2023.

«Gasli» UGS compressor station 6 (BCS 6) (2020-present)
The project of UGS (underground gas storage) «Gazli» provides a stage-by-stage increase of gas storage through the recovery of gas production in the field and the construction of a new gas compressor station. Scheduled construction and installation and commissioning works are being carried out, including the installation of a smoke exhauster with reduction and ignition units 2-F 601 and compressor units GPU-100, GPU-200, the works on connection of wells to several start-up complexes have been completed. The project is expected to be completed in 2023.
«Enter Steel ALMALYK» Machine-Building Plant (2021-present)
The construction of the machine-building plant of «Enter Steel» JCS with an area of 80 thousand square meters in Almalyk is nearing completion. It is planned to produce 22 thousand tons/year of plate steel, 75.6 thousand tons/year of section steel, as well as apron feeders, belt conveyors, flotation machines, ball mills, cable and pipe racks, embedded parts, beams and columns. 1,495 jobs will be created.
The project is expected to be completed in 2023.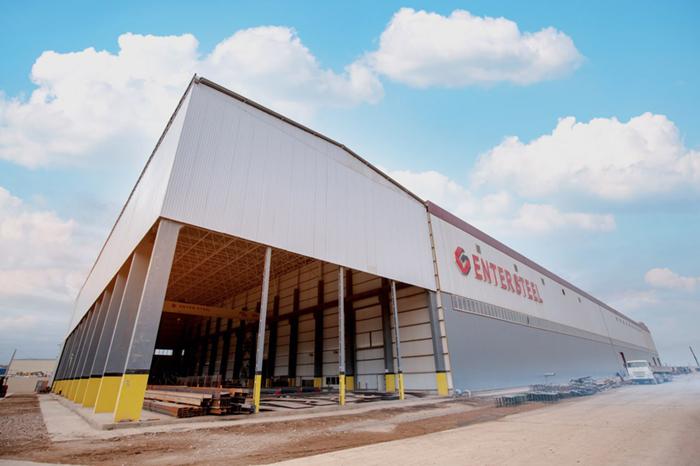 «Enter Steel KARAKUL» Machine-Building Plant (2022-present)
The construction of the «Enter Steel Karakul» LLC plant for the production of steel structures, pipe products, vessels and machinery. This will be the third plant of this kind. Two similar facilities are located in Yangiyul and Almalyk and the design office is in Chirchik in Tashkent region. The project will produce products for Uzbekistan's domestic market, which are currently imported, as well as create 1,000 new jobs. It is expected that domestic needs will be covered by produced products for the next 5 years, after which it is possible to export them. The project is expected to be completed in 2023.
Copper Concentration Plant (CCP-3) on the basis of AMMC (2021-present)
A project to build a copper enrichment plant (CCP-3) for AMMC is being implemented in Tashkent region. A total of 9,546 workers are currently employed on the project and 911 units of construction equipment are involved. This major project will allow AMMC to increase its ore processing capacity to 160 mln tons per year, which will allow increasing copper cathode output to 400 thousand tons per year. The project is expected to be completed in 2024.
Integrated Gas Treatment Facility (IGTF) at «Mingbulak» Field (2021 - present)
Currently, works are being conducted on the design of a gas complex processing plant at «Mingbulak» field in Namangan region. The Сustomer of the project is SEG Company.
BCS on «Southern Tandyrcha» field (2022 - present)
«Turn key» construction of booster compressor station (BCS) for «Uzbekneftegaz» JSC at «Southern Tandyrcha» field in Guzar district of Kashkadarya region. Commissioning of BCS will ensure full and stable operation of the field, as well as significantly increase the daily production of natural gas. The project is expected to be completed in 2023.
Auto gas-filling compressor station (AGFCS)
in the Karakulsky district (2022 - present)
In the near future, it is expected to put into operation an auto gas-filling compressor station (AGFCS), built on the territory of the gas chemical complex based on MTO technology in the Karakulsky district. There will be installed 5 double-sided gas dispensers with a methane capacity of 3,300 cubic meters/hour. The facility will serve the fleet of vehicles involved in the construction of the gas chemical complex MTO, as well as other facilities.
Construction of the «Arniez» BCS (2022-present).
Due to the depletion of reservoir energy from low-pressure oil and gas wells in the process of operation, at the «Arniez» field, the project on construction of a complex of structures for booster compressor station (BCS) with a capacity of up to 1,75 billion cubic meters/year with an inlet pressure of 0,6 MPa of sample to the outlet pressure of 6,0 MPa of sample is being implemented.
Gas compressing at «Arniez» BCS will be carried out by centrifugal compressor units driven by gas turbine engines produced by Baker Hughes (Italy).
Modernization of the main gas transportation system JSC «Uztransgaz» (2019-present)
Realization of the project on construction of gas pipelines with a total length of 511 km and modernization of Booster Compressor Stations «Gazli» is currently being carried out. About 390 km of pipes have been welded, thus launching 5 high-pressure gas pipelines and at the same time BCS - 4 «Gazli» was put into operation. Realization of the project will make it possible to increase the supplies of natural gas to all categories of consumers in the Republic of Uzbekistan up to 185.0 million cubic meters/day. During winter periods with the provision of export of natural gas to an eastern direction to 21.0 million cubic meters/day and to neighboring countries up to 5.0 million cubic meters /day. Supply to domestic gas pipeline systems will be increased to 30.0 million cubic meters /day (in winter).
Gas treatment facility at the West Aral field (2022-present)
A gas treatment unit (GTU) is expected to be commissioned at the «West Aral» field this year to treat and dry gas and extract its target component, gas condensate. The unit has a nominal raw gas capacity of 3.0 million cubic meters per day.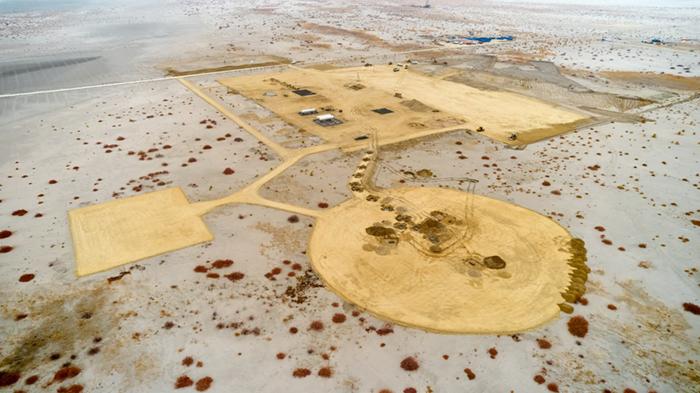 New projects
Construction of gas processing complex at the «Arniez» field
The Company begins construction of a gas processing complex designed for purification of raw natural gas from acidic components of hydrogen sulfide and carbon oxides, mechanical impurities, dehydration and separation of the propane-butane mixture into gas requirements for supply to the «Karakul» and meeting the quality requirements of O'zDst 948:2016 (2017). The complex's capacity in terms of processed gas is 1.75 bln. m3 per year (+10 - 35%).
Oil treatment plant «Khojiabad»
The implementation of the project on construction of the «Khojiabad» oil treatment plant in the district of the same name of Andijan region has started. The customer was «Sanoat Energetika Guruhi» LLC and GRDС company is designing the project.
Gas chemical complex MTO (Methanol to Olefins)
Enter Engineering Pte Ltd became an EPC contractor for the construction project of MTO Gas Chemical Complex, the largest polymer production plant in Central Asia. The operator of the construction is Gas Chemical Complex MTO Central Asia LLC. The contract includes the design, purchase of equipment, and construction of facilities and necessary infrastructure.
Contributions to the national budget
At the end of 2022, the amount of taxes paid to the state budget was 1 trillion 596 billion sums.
Employment
The total number of jobs created by Enter Engineering by the end of 2022 was 40,545 (domestic workers - 37,331, foreign specialists - 3,214).